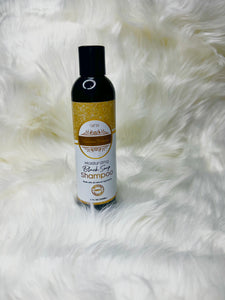 Moisturizing Black Soap Shampoo
Regular price $12.00 Sale
Moisturizing Black soap Shampoo is an amazing soap that your leaves your hair clean and moisturized without stripping your hair off its natural oils.
Its 100% natural made with all natural ingredients, its a liquid like soap and a small amount goes a long way.
How to use:
Wet hair and apply shampoo to hair and work with your hand to massage the hair from the scalp all through the ends. Rinse out with warm water if soap gets to the eyes, Rinse out shampoo with warm water and follow up the knot out coconut conditioner. 
Ingredients: Distilled Water, Raw African Black Soap, Palm Kernel oil, Shea Butter, Pure Honey, Glycerin, Aloe Vera Juice, Lime and Lemon Juice, Essential oils and Natural fragrance. *No Alcohol, No Sulfate, No Petroleum