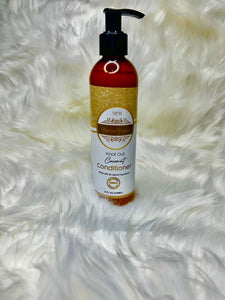 Knot Out Coconut Conditioner
Regular price $0.00 $12.00 Sale
 Knot out Coconut Conditioner.
Get rid of dry hair fast using this great Conditioner with the sweet smell of Coconut. It helps smooth's, protect, and hydrate the hair. Its also gives the hair strength and structure.
How to use:
Apply knot out Coconut Conditioner to hair and gently finger detangle or use a wild tooth comb to detangle hair starting from the end of the hair then rinse out with warm water.
Ingredients: Distilled water, Glycerin, Almond Oil, Wheat Germ Protein, grapeseed Oil, Castor Oil, Herbal blend, Silk Amino Protein, BTMS, Apricot Kernel Oil, Aloe Vera Juice, Jojoba Oil, and Essential Oil Blends. Fragrance.
*No Alcohol, No Sulfate, No Petroleum